Meet The Team
About Us
Learn why we're the best at what we do
and why we're regarded as one of the best
in the vision services industry.
We've a killer team at the helm
Dr. Kent Godfrey
Dr. Kent Godfrey, O.D., graduated from the Illinois College of Optometry in 2006 and joined Front Range Family Eye Care with a special interest in disease evaluation and treatment, including glaucoma, cataract and laser refractive surgery management, and contact lenses. Dr Godfrey has participated in over 15 missions with Volunteer Optometric Services to Humanity (VOSH) providing eye care to underserved populations in Mexico Costa Rica, Honduras and Chile. Just ask him about his work!
Dr. Kerry N. Tyler, OD
Dr. Tyler graduated from Pacific University Collage of Optometry in Forest Grove Oregon. He then joined the United States Navy and worked at Great Lakes Navel hospital where he met his wonderful wife Linda. They have 3 fantastic kids and 7 amazing grandchildren. In his spare time he loves fly fishing, camping, spending time with family and just WINE-ding down right out of the barrel. Lets not forget he also loves blaming (he refers to it as educating) his favorite Staff for his mistakes and keeping them on their toes.
Dr. Jeremy Morris
Jeremy was born and raised in Western Nebraska. He attended the University of Nebraska - Lincoln where he earned a bachelors degree in Nutrition, Exercise and Health Sciences. He earned his doctorate degree in optometry from Illinois College of Optometry in Chicago, Illinois. He completed multiple externships, all of which focused on the different facets of optometry. His special interests include primary eye care, treating and managing dry eye disease, specialty contact lens fittings with a focus on scleral contact lenses specifically for keratoconus and severe dry eye disease.
When he is not providing excellent eye care he enjoys being outside and staying active taking advantage of all that Colorado has to offer.
Dr. Stanley Hanson
Stanley Hanson is a Colorado native. He graduated from Southern College of Optometry in 1975. He established his private practice on the Porter Hospital campus in 1977. In December of 2021 he joined Front Range Family Eye Care where he continues to practice at the same location. He is a member of the American Optometric Association and the Colorado Optometric Association of which he is a past president.
In addition to his private practice, he has been a staff optometrist for the City and County of Denver Department of Health and Hospitals, an instructor at the Community College of Denver, adjunct professor for Southern College of Optometry, staff optometrist for Kaiser Permanente Medical Group, staff optometrist for Thomas P. Larkin M.D., and contact lens specialists for Richard Beaty M.D. and C. Stark Johnson M.D.
He was a co-founder and secretary treasurer of three managed eye care companies; Colorado Health Network, Eye Health Network, and American Vision Services which were establishes to provide medical/surgical and refractive services. He has served as a board member of the Denver International School and is a past president of the Tamarac Square Merchant's Association.
He enjoys bicycling and still commutes by bicycle to his office. He continues running and has competed in the Leadville Trail 100 ultra-marathon. He is married with two children.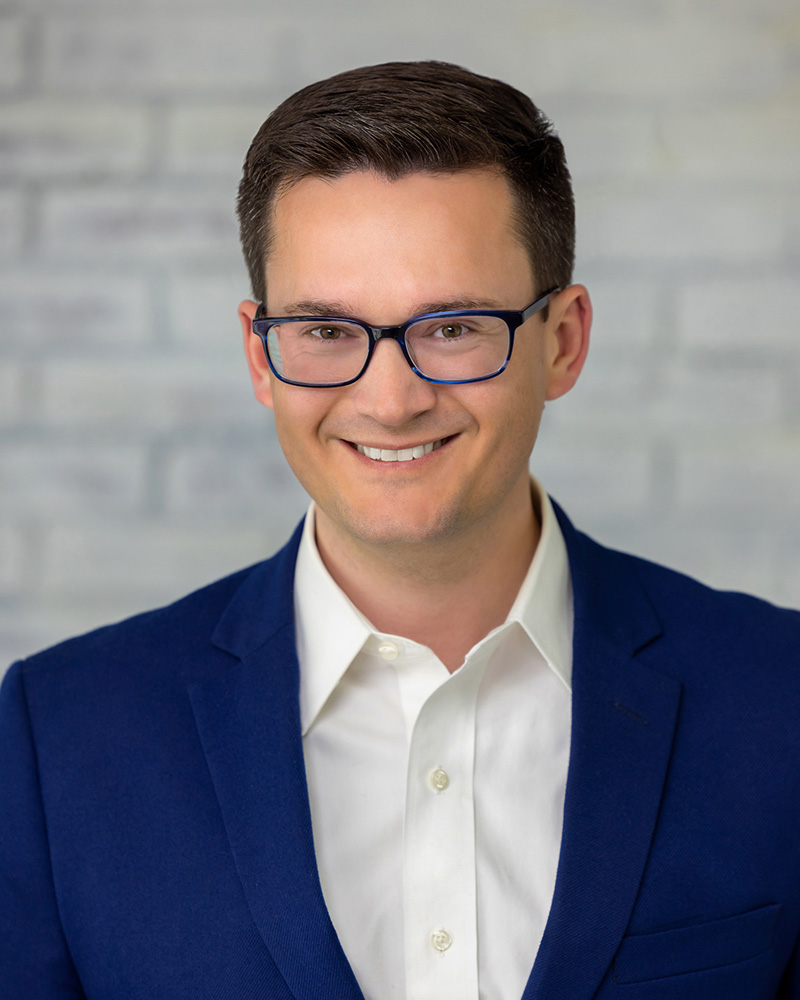 Dr. Jordan Paul
Dr. Jordan Paul was born and raised in San Antonio, Texas. He graduated from Brigham Young University in 2010 with a bachelors in Humanities focusing on Film. He loves talking about movies! He attended and graduated from Southern College of Optometry in 2014. He spent over seven years serving in the United States Navy and became the 37th Aerospace Optometrist. He loves the benefits of Eyecare and how it gives patients a window into their whole body health. He enjoys providing good vision with glasses and contact lenses, especially for kids.
When not at the clinic, he enjoys spending time with his wife and running his four daughters to dance, piano, and parks. He also enjoys outdoor activities, reading, board games, and video games.
Dr. Brett-Ashley Palmer
Dr. Palmer is originally from Florida but completed her Doctor of Optometry degree at Illinois College of Optometry in Chicago. Following her time in the midwest, she returned to the east coast to enter her residency program in Primary Care and Low Vision with an emphasis on traumatic brain injury. After practicing in Florida for a few years, the mountains were calling her to put down roots in Colorado.
Dr. Palmer loves getting to know the patient as a whole to help them in the best way possible to meet all of their vision and medical needs. She enjoys patient education and believes in forming a partnership with her patients and making decisions as a team. When she's not helping patients with their eyes, you can find her at the park with friends or on a hike with her dog Murphy.
Dr. Tessa Lau
Tessa Lau, O.D., graduated Summa Cum Laude from Southern College of Optometry with an outstanding leadership award for her hard work and dedication to scope expansion in optometry. Now that Colorado is one of the nation's leading states for optometry innovation, she looks forward to practicing full scope medical optometry. Dr. Lau likes to treat each patient holistically, integrating systemic health, diet changes and supplementation into her routine exams. She loves to see patients of all ages and welcomes families to come in together for their yearly eye exams!
In her spare time Dr. Lau enjoys listening to audio books, going to concerts, hiking, horseback riding and cooking. She's a lover of all animals so be sure to have a picture of your furry friend cued up when you come in!
Dr. Stone
Dr. Stone was born and raised in Olathe, KS and attended the University of Kansas for her degree in Molecular Biology. She then graduated Magna Cum Laude from Southern College of Optometry, where she received multiple awards, one being for Clinical Excellence during her first year of optometry school and another award for outstanding performance in pediatric vision care. She completed externships at the Ralph Johnson Veteran Affairs Medical Center in Charleston, SC and a private practice in Kansas City, MO. Dr. Stone practices full scope optometry but particularly enjoys ocular disease, cataract and Lasik co-management, and contact lenses. Outside of practicing optometry, Dr. Stone enjoys reading, going to concerts (especially at Red Rocks), traveling to new places, and being outdoors.
Jennifer
Jennifer is a fabulous addition to the team at Front Range Family Eye Care. When training to become a Certified Optician, Jennifer trained with us and returned after a few years to where she can fully utilize her skills. She has a fantastic eye for detail which is a huge asset in frame selection. Jennifer enjoys spending time with her family and the great Colorado weather.
Toni B.
Toni began her career as an optician in a small northeast Colorado town in 1997. After those two people died in a shoot out, she had to move. Since then she has served many roles in the field of Optometry including Optician, Contact lens Instructor, Lasik Patient Counselor, Billing Specialist and Office Manager.
She joined Front Range Family Eye Care in 2010. As a premier Eye Wear Consultant, Toni brings an honest enthusiastic approach to helping you choose from our latest collections. Toni's love and passion for the industry is evident to her many patients who want specialized service from an industry expert.
When not at the office, you will find her enjoying a wide variety of activities with her husband and children.
Joe
Joe has been with us for 6 years and brings over 30 years of experience in all phases of our industry Joe excels at frame and lens choice for our patients, as well as understanding complex prescriptions. He is a people person and says he loves helping patients with all their eye care needs at Front Range Family Eye Care.
Vikki
Vikki is a native of Colorado, born and raised in Burlington, CO on the eastern plaines. She moved to Denver when she was 18, after the loss of her Mother, to be closer to her sister. She started her journey working in the oil business for about 10 years.
After the ups and downs of the oil industry, she then went to work for a national non-profit organization in the nutrition field. Vikki worked with the Wheat Foods Council for 16 years and says she enjoyed every minute of it. Sadly, due to the downfall in 2008, the Council needed to downscale and the decision to run the office from the president's home became the economical way to go.
Vikki joined Fresenius Medical Care in 2013 and worked at dialysis placement for kidney patients for 5 years. The job was a very high stress role and after the 5 years, it was time to move on.
An opening in the WalMart Vision Center in Castle Rock became available and it was a good way for her to get her foot into the industry of optician. Vikki joined the Front Range Family Eye Care in November of 2018 and as she states it, "I am glad to have this wonderful opportunity to further in the field of Optician. This is such an exciting time for me as science is finding new technology in eye health care and for preventing certain eye diseases".
Brenda Sherwood, ABOC Optician
Brenda was born and raised in Minnesota. She has lived in multiple states prior to making her home in Colorado in 2013. She joined our Green Valley Ranch office team in December 2016 with 40+ years of optical experience and outside frame sales. She enjoys helping our patients by styling and fitting them to look and feel their best! Brenda re-obtained her American Board of Opticianry Certification in 2017 and she strives to stay up to date on the most fashion forward frame trends and lens designs.
In her spare time, Brenda enjoys hiking, quilting, and spending time with her grandbabies and her dog, Rudy.
Gina
Gina joined our Lone Tree location as a patient Liasion and Optician in Aug 2018. In that time she has learned a lot regarding glasses and contact lenses. Although the optical industry is new to her she has had experience in other healthcare fields. Gina is grateful for her staff of co-workers at Front Range Family Eye Care & loves working with our patients. When not at the office she enjoys hiking, playing tennis, books & movies. She is a proud mom of four girls.
Carmelita Noon, CPO Technician
Carmelita was born in Alamosa and was later adopted in Denver. Carmelita began her optical career in Grand Junction and has over 14 years of experience in the field, she later joined our team in November 2014. Carmelita obtained her Para-Optometric Certification in September 2017. She is extremely friendly and serves our patients by conducting their pre-test examinations and manages the contact lens department.
After 36 years Carmelita was re-united with her biological family and was overjoyed to share this experience with her daughter, Shayla, and her fiancé. She enjoys country dancing, cooking, and mommy-daughter dates.
Denise
Started in Optical in 1993, Have a passion for helping people. I have been on several mission trips to Honduras, and Dominican Republic helping the needy with eyewear. I also assist in fitting kids with eyewear at the back to school fair at the Colorado Coalition for the homeless. In my spare time I love to go fishing, traveling, cooking, gardening, reading, and spending time with my family and friends. One of my favorite quotes is "The only thing worse than being blind is having sight but no vision" Helen Keller.
Brenda L
Brenda is a multi-generation Coloradoan. She began her career in the medial field and transitioned into eye care 25 years ago with Dr. Stanley Hanson, as a receptionist; joining Front Range Family Eye Care in 2022. Through the years she evolved into an Optician and further moved into management. She has a dedication to her patients and finding the right look that suits them best, which has been proven in the loyalty of her patients returning to her year-after-year, just to get glasses from her. Not only is Brenda a skilled Optician but she is a great detective when working with your insurance and how to best serve you. She is also skilled as a contact lens instructor, billing specialist, and manager. In her free time, she enjoys crafting, spending time with family and friends, and is a proud mother of her son.
Lavinia
Lavinia was born in Romania and moved to Germany when she turned 18. She met her husband in Germany and they both moved to the U.S in 2017. She began working the front desk at the Harvard Park location in February 2022. This is Lavinia's first time in optometry, and she has fallen in love with the profession. She loves assisting patients and strives to provide the best customer service possible. When Lavinia is not working, she enjoys spending time with her family and traveling.
Claire
I was born and raised in a small town in Arkansas. I moved to Colorado 2 years ago and I absolutely love it here. I enjoy going to see all the live music that is around as well as hiking. I graduated from ASUMH with my Associate's Degree.I do not have any kids, but I do have a cat named Merla and she is my pride and joy!
Debbie
Debbie has worked for Dr. Tyler in our Castle Rock office since 2008. Debbie is married and two grown children; a daughter and a son. Debbie loves adventure, so when she is not assisting our patients you will likely find her hiking, running, camping and exploring the great outdoors!
Check out our fancy new office
We want you to feel comfortable when you visit. That's why our renovations are up to date, so you'll feel at peace when you visit.